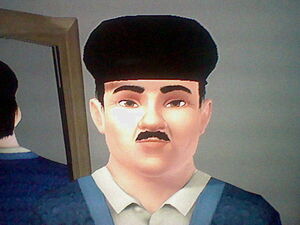 Giaccomo Harris is a character on the Sims 3 game for Wii. He is the husband of Rosa Harris. They have two children, Giuseppe Harris and Dorothy Harris. Giaccomo is unemployed, yet rich.
His traits are:
Athletic
Natural Cook
Great Kisser
People Pleaser
Hopeless Romantic

Giaccomo, being a natural cook, owns "Cooking Vol. 1: Too Much Salt!"
His lifetime wish is the "Heartbreaker" wish (be the girlfriend/boyfriend of 10 different Sims).
Ad blocker interference detected!
Wikia is a free-to-use site that makes money from advertising. We have a modified experience for viewers using ad blockers

Wikia is not accessible if you've made further modifications. Remove the custom ad blocker rule(s) and the page will load as expected.